This text is for question no. 6-10.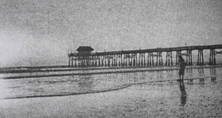 Cocoa Beach Florida is known as the perfect beach town. It is an hour drive to east of Orlando on Florida's amazing Space Coast. The drive here is almost as beautiful as the beach.
Cocoa Beach is one of the most affordable beach vacations in Florida. There are a lot of things to see around Cocoa Beach. Space Coast offers you the chance to go deep sea fishing or parasailing, river tour and getting up close with the awesome wildlife of Florida.
While at Cocoa Beach, tourist can also visit the Kennedy Space Center, the Brevard Zoo, or spend some time shopping. They are within short driving distance to all of the Orlando attractions, and drive back to Cocoa Beach at night to enjoy dinner in one of the many dining spots on the beach.
When night sets in, tourist can travel back and enjoy the nightlife on the beach that ranges from cool jazz clubs to beach side cafes. There are some facilities to stay with perfect accommodations and wake up to a breathtaking sunrise on the beach.
With plenty of offers, tourist or businessmen who like beach vacation, Cocoa Beach is the best place to consider. They will find exactly what they have been looking for.