Listen and complete the following text based on what you have heard.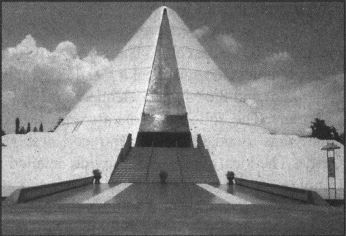 Source: Publisher's document
Picture 5.5 Yogya Kembali Monument

Yogya Kembali Monument is one of many historical buildings in Yogyakarta. It is not difficult for you find to this monument since it's located on Jl. Ringroad Utara; Yogyakarta. Precisely, it is located in Jongkang Village, Sleman, about three kilometers north ofYogya city center. The monument has a very unique design. Do you know why? Well, it is (1) ____ symbolizing fertility and preservation of pre-historical (2) ____ culture.
Yogya Kembali Monument was built between June 29, 1985 and July 6, 1989. lt (3) ____ the return of the Indonesian Republican government and is a historical (4) ____ of the Dutch troop withdrawal from Yogyakarta. On entering the monument area, you will be welcomed by a Cureng aircraft (5) ____, close to the east gate and a Guntai aircraft replica, close to the west entrance. Stepping up the podium at the west and east sides, you can see two (6) ____ complete with seats.
The monument is surrounded by a (7) ____, divided by four alleys leading to the main building. The west and east alleys connect to the entrance on the first floor that consists of four rooms featuring about 1,000 collections of the general attack on March 1.
Apart from (8) ____ about the attack on March 1, the building has its own history. By far, we only know about the struggle of our nation from history teachers at school, or from the stories told by grandfathers. On Yogya Kembali Monument we can (9) ____ clear descriptions of our heroes' struggles by looking at the dioramas, (10) ____ or heroes' collection of clothes and weapons.
Adapted from: http://ww.wyogyes.coni/en/Yogyakarta-tourism-objec/museum-and-monumen/monjali/ (October 22, 2018)

What can we mostly find inside the monument?