The following text is for questions 27 to 31.
Grasshopper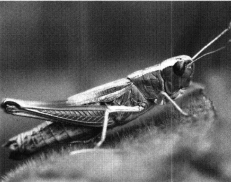 Grasshoppers are insects. People also call them short-horned grasshopper because they do not have any nose. We can find about 10,000 different species in many different parts of the world.
like most insects, they lay eggs. Once the eggs hatch , they change into nymphs. They look like little adults, but don 't have any wings and reproductive organs. The outer layer of their body will get harder when they grow older. Grasshoppers' colours are mostly green, brown, or olive-green.
A grasshopper's body is covered by a hard exoskeleton. It consists of the head, thorax, and abdomen. Grasshoppers have a series of holes located along the side of the body. They are called spiracles. Spiracles help grasshoppers to breathe.
Grasshoppers are able to hop, walk, and fly. They hop with their long hind legs. They use their short front legs to grasp their prey and to walk. When grasshoppers rub their back legs together, they will make noise.
Grasshoppers eat plants. In the ecosystem, their predators include birds, insects, and repti les. Grasshoppers' eggs are also eaten by some flies.
27. The text mainly tells us about ....