Listen and read the text aloud.
Answer the questions that follow.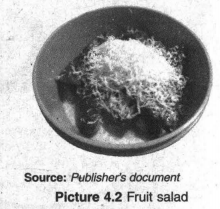 You love eating fruits, don't you? So do I. I often eat fruit salad which I make myself, to meet my body's vitamin needs.
It's very easy to make fruit salad. We only need fruits which we like, such as a red apple and grapes which are sweet enough, a pear, banana, and dragon fruit. We also need original yogurt. We can add grated cheese to make our fruit salad more delicious and juicy. We need a sharp knife to cut the fruits, cutting board, and grater.
Let me tell you how to make it. First, prepare the fruits and tools .that we need. Second, wash the apple, pear, and grapes. Remember, clean the tools before using them. After that, cut the apple, pear, dragon fruit, and banana diced, and· the grapes halved. Put all of the fruits into a bowl and add yogurt sufficiently. Add enough grated cheese if you like. Enjoy the fruit salad directly, or you can keep the salad in a fridge for a while.
What ingredients do we need?