The following text is for questions 15 to 18.
BRAZILIAN FRIED BANANAS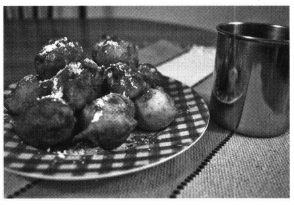 This traditional breakfast of northeast Brazil is easy to make. You just have to prepare:
• 3 bananas
• 1/2 cup white sugar
• 1 1/4 teaspoons ground cinnamon
• 3 tablespoons butter
Steps:
1. Cut each banana into 3 pieces.
2. Heat a frying pan over medium-low heat and melt the butter.
3. Then, put in and cook the banana slices until golden brown.
4. Mix the cinnamon and sugar in a bowl.
5. Take the banana out and drain them on a plate covered with paper towels.
6. You may sprinkle or coat the banana slices with cinnamon-sugar.

Which of the following list of ingredients is used in the recipe?
Jawaban untuk soal di atas dapat dilihat pada bari 2 sampai 5, "bananas, sugar, ground cinnamon, butter".
Jadi jawaban yang tepat adalah A.