Coachella Festival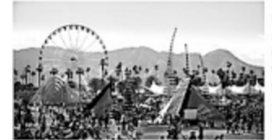 The coachella Valley Music and Arts Festival is an annual three-day festival takes place in Indio, California, located in Inland Empire's Coachella Valley in Colorado Desert. The festival was founded by Paul Tollet in 1999. There are many events in this festival. The main event is the music performances. Across the grounds, several stages continuously host live music. There are many genres of music such as hip hop, rock, indie and electronic dance music.
In July 1999 the concert promoter Goldenvoice began selling tickets for the first time ever. The ticket price at the time was $50 a day, with a lineup full of esteemed acts like Beck, Tool, The chemical Brothers, Morissey and Rage against the Machine. The 2015 festival, held on April 10-12 and 17-19, general admission tickets sold out in less than 20 minutes.
Many fans camp during the festival. Originally, fans weren't allowed to camp at Coachella, following the hoible events of Woodstock '99. However in 2003 Coachella started allowing concert-goers camp in the festival. In 2012 camp grounds began featuring recycling, showers, a general store, phone charging stations and an Internet cafe with free WIFI.
Besides hosting live music, Coachella is a showcase for visual arts, including installation art and sculpture. Some of the works have been featured at Art Basel, and involved participants from architecture schools, booth local and international.

The first Coachella Festival was held in ....