Read the following text and make the recipe of Ginger Coconut Coffee. Compare your recipe with your classmates'.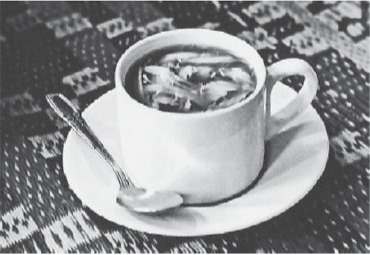 The Sweet Ginger Coconut Coffee (Bajigur)
This afternoon I went to my aunt's house. She was making a Ginger Coconut Coffee. I have never drunk this kind of beverage before. I helped her make it. It wasn't difficult to make it. I'll tell you the recipe. First, you have to prepare the ingredients. What you need are 1 inch fresh ginger, sliced thinly, 1/2 tsp, grated fresh nutmeg, 1 stick cinnamon, 2 cloves, 1 inch lemon grass, minced, 4 tbs. Coffee, powdered, 1 cup coconut milk, 2 tbs. palm sugar, 1/2 tsp. salt, 4 tbs young coconut flesh. When those ingredients are already in front of you, you have to heat the ginger, nutmeg, cinnamon, cloves and lemon grass in 3 cup water. Then, simmer lightly for 10 minutes. After that, turn off the heat, add the ground coffee and allow steeping for a few minutes. Strain the solids from this liquid and add the coconut milk, palm sugar and salt. Simmer gently for 2 minutes. Finally, add the coconut flesh and a sprinkle of nutmeg on top. Well, that's all and you'll have your sweet Ginger Coconut Coffee!
Adapted from: http://indonesian-street-foods.blogspot.com

Instructions: ...