Read the following incomplete text
Write a suitable step/instruction based on each picture provided.

Here is a simple homemade AC unit that you can build in just few minutes. It cools a room for a good couple of hours.
For this project, you will need:
a cooler. Not too small you want at least one, preferably two 1 gallon bottles to fit in there.
a 6" fan
two 1 1/2 elbows
a knife
You don't have to follow this exact design, but it will give you the basic idea and then you can adjust according to what you can find in the store or what you already have on hand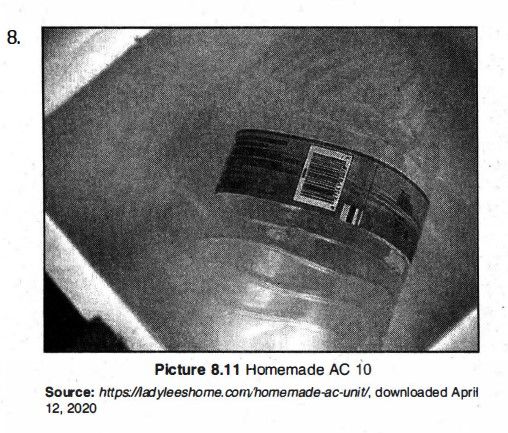 9. Place the lid on, plug in the fan and start it, and let it blow delicious cold air in your face! Of course, it's not as cool as having the real deal but it's a great relief from hot humid air.

Adopted from: https:/ /ladyleeshome.com/homemade-ac-unit/ (April 12, 2020)
Pembahasan:
Perintah soal diatas meminta kita untuk menulis langkah/instruksi yang sesuai dengan ilustrasi gambar. Pada gambar kedelapan kita bisa melihat galon yang diletakkan didalam cooler.
Dengan demikian, jawaban kalimat instruksi yang tepat untuk gambar ialah To use it, place one or two one-gallon bottles of frozen water in the cooler, yang artinya untuk dapat menggunakannya, letakkan satu atau dua botol galon berisikan air dingin kedalam cooler.
Dijawab oleh:
Mahasiswa/Alumni Universitas Gadjah Mada