The following text is for questions 41 to 45.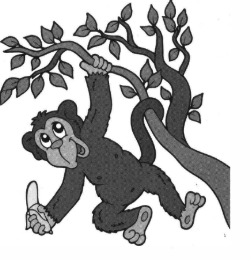 Duma, the rabbit, lived in a dense forest with other animals. Every day, she left her house early in the morning to collect food. She always went home with plenty of delicious food. One day, Monza, the monkey was curious about it. He persuaded Duma to show him where she got all the yummy food from. Duma brought Monza to the jungle and showed him the place.
First, Duma brought Monza to a banana tree. There were a lot of ripe bananas on it. Monza said, "Let me climb the tree, my friend. You just stay here. I'll get you some bananas." Duma agreed. She waited under the tree. However, Monza ate all the ripe bananas up. When he climbed down, he said, "Oh! I'm sorry. I forgot to bring you some. In fact, there is no ripe banana left any more. Sorry."
"Well, that's alright," said Duma. "I 'll shake the apple tree there to make the ripe apples fall, so I can collect them." "Oh, don't worry," said Monza, "Let me climb the tree. You look tired. Just wait here."
Again, Monza climbed the tree and ate the ripe apples. Then he climbed down and said, "Oh, no! I forgot to bring you some again. Sorry."
By that time, Duma understood that Monza had tricked her.
"What about the sweet honey you told me. Where is it?" asked Monza.
"Oh, it is right there," Duma said while pointing to a tall tree with some bee nests on it.
"You just stay here," said Monza, "I'll climb the tree." Without waiting for Duma's answer, Monza quickly climbed the tree.
On the tree, when Monza saw a bee nest, he quickly grabbed it, thinking of the juicy honey inside. This made the bees inside the nest get furious. They all flew out of the nest and stang Monza. Monza got into a panic, he shouted, "Help! Help! Duma, help me!"
What happened at the end of the story?