Activity 7
Work in pairs. Read the text below and answer the following questions.

What Do I Need for Computer Printer Repair?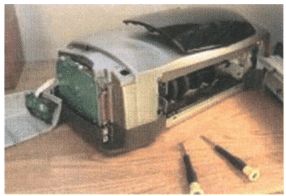 Source: fixitclub.com (October 3, 2017)

Many components on computer printers snap together, making disassembly relatively easy. For cleaning and repair, you may also need screwdrivers and some of supplies, including denatured alcohol, cotton swab, canned air or vacuum cleaner, clean cloth, household lubricating oil, silicone spray
What Are the Steps to Computer Printer Repair?
1 . Replace computer printer ink-jet cartridge:
a. Release the ink cartridge by pressing down on it, then tipping it back (or forward) and out.
b. To replace the cartridge, do the reverse, snapping the new cartridge into the cradle.
2. Clean a computer printer ink-jet head:
a. Remove the ink-jet head or cartridge following the above instructions.
b. Use a dry or alcohol-dampened swab to wipe away ink from each nozzle.
c. Reinstall the cartridge head.
3. Clean and maintain a dot matrix or ink-jet computer printer:
a. Clean the interior of the printer by blowing out dust with a can of compressed air or by vacuuming with a small vacuum cleaner.
b. Clean guide rails with a soft lint-fee cloth dampened with isopropyl alcohol, then relubricate the rails.
c. Lubricate rails with a drop of lightweight household oil. Slide the print head to distribute the lubricant. Carefully spray silicone on cleaned gears.
d. Clean the platen and the rollers by turning the platen while holding a cloth dampened with alcohol against each roller.
4. Clean a laser computer printer:
a. Let the printer cool completely because it gets hot.
b. Blow out dust from around the drum and the corona wire.
c. Lightly rub a cotton swab along the corona wire to clean off built-up toner and dust.
5. Service a dot matrix computer printer:
a. Unplug the printer and slide the print head to the middle of the platen. Unfasten the head retainer clips and lif the head off the support pins.
b. Clean the pins with a dry swab. Replace the head if any pins are missing or if cleaning fails.
c. To adjust tension on the printer carriage belt, loosen (do not remove) screws on the gear mounting plate. Rotate the plate to adjust belt tension, then tighten the screws.

Source: http://www.fixitclub.com/electrnics-repairs/computer-printer-repair/
What does the text talk about?