Read the following texts! Then answer the questions!

Text 1
Grand Canyon National Park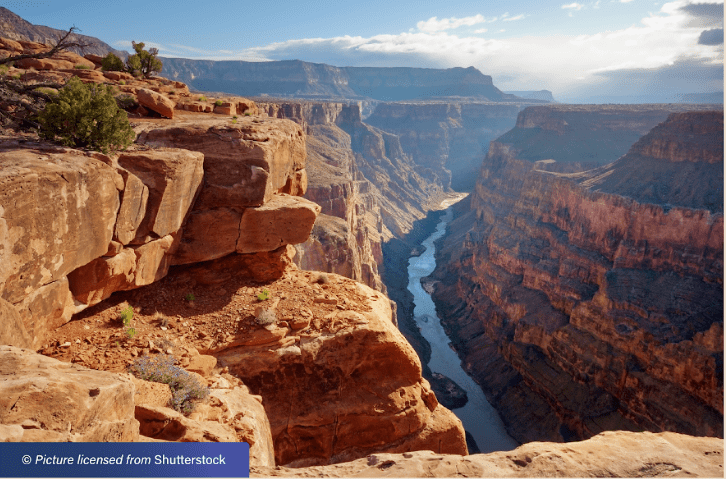 Grand Canyon National Park is home to much of the immense Grand Canyon. It is a natural formation distinguished by layered bands of red rock, revealing millions of years of geological history in cross section. It is one of the Seven Natural Wonders of the World." Grand Canyon is considered one of the finest examples of arid-land erosion in the world.
Grand Canyon National Park is big-277 miles long, 18 miles wide, a mile deep - encompassing over 1 900 square miles. The canyon itself was created by the incision of the Colorado River and its tributaries after the Colorado Plateau was uplifed, causing the Colorado River system to develop along its present path.
Grand Canyon National Park is located·in the northwest corner of Arizona, close to the borders of Utah and Nevada. The Colorado River which flows through the canyon, drains water from seven states, but the feature we know as Grand Canyon is entirely in Arizona. Around 5.5 million people each year see the 1 mile deep Grand Canyon each year. The primary public areas of the park are the South and North Rims, and adjacent areas of the canyon itself.
Most visitors around 90% see Grand Canyon from the South Rim from overlooks accessed by free park shuttle buses or by their personal vehicles. The South Rim is open all year. It is the most visited part of the park. The south side is steeper and shorter. The elevation average 7,000 feet. Some 30 miles of the South Rim are accessible by road.
Averaging 8,000 feet above sea level, the North Rim rises 1,000 feet higher than the South Rim. The North Rim lets the visitors walk on the quite side. It is a little less developed and a lot more tranquil, with only 10% of the park's visitors hitting this rim. Another reason is that its remote location is less accessible. Tourists crowd the rim in summer but hiking into the canyon reveals ecosystems ranging from desert to forest. In addition to wildlife such as Black Bear, Elk and California Condors, the canyon has historically been home to Pueblo people, who consider it a sacred site.
The park headquarters are at Grand Canyon Village. It is not far from the South entrance to the park near one of the most popular viewpoints. Grand Canyon Village is the primary visitor services area in the park. It is a full service community, including lodging, fuel, food, souvenirs, a hospital, and access to trails and guided walks and talks.
Taken from: Many Sources
What are the differences between South Rim and North Rim?