Read the text below and choose whether the statements listed are true (T) or false (F).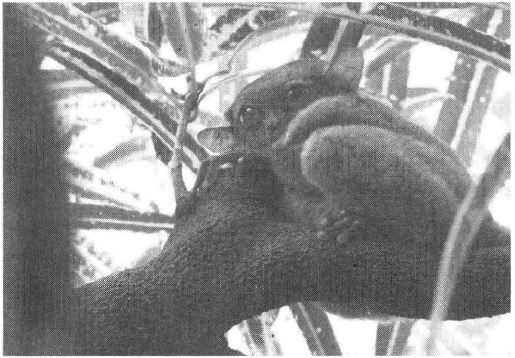 Chephalopacus Bancanus Saltatore is a scientific name for Horsfield's Tarsiers, which live in Belitung. The locals call these animals Pelile'an.
Tarsiers are small animals. It is said that the tarsiers are the tiniest primate in the world, due to their less than 150 grams weight. Tarsiers have a distinctive appearance with long tails which are longer than the entire body and big eyes that seem disproportionate to the little heads. Like every animal which has a tail, tarsiers' tails also function to maintain balance. Tarsiers' hair has a unique shade which is between greyish-brown to reddish-brown. They also have long hind legs that help them move from one tree to another. Their long legs are probably due to the elongation of bones in an area called tarsus, located around the foot. This is how they get their name.
Tarsiers are carnivores, and their favourite food is insects. Their big eyes help them scout for their prey, by rotating a complete 180 degrees.
Tarsiers are nocturnal animals, and like dogs, they mark their territory with their urine. Not only that, they are also just like bats.· They communicate using ultrasonic waves. Tarsiers do not move in a pack, because they are solitary animals, but interestingly, just like wolves, tarsiers mate for life.
Sadly, right now there are not many tarsiers left in Belitung. Their population is declining because they are losing their habitat. There are many reasons for the habitat loss, but the main reason is because of humans who cut down the forest for palm oil plantations. Besides that, humans also destroy tarsiers' homes for mining.