Identify the structure of the letter in Activity 10. Use the table provided below. Discuss and compare the result of your identification with your friend's.

Septiarini
Jl Anggrek Bulan Blok F No. 52
Palopo
08041 15679800
September 8, 2020
Mr. Budy Setyawan
(1) ____
PT Daun Jeruk
Jl Menur No. 97
Palopo
Dear Mr. Budy Setyawan,
I read the advertisement on your company's website that there is (2) ____ in your company as Executive Marketing. I would like to apply for the position. I sincerely believe that I meet
your (3) ____ for the position.
I (4) ____ from LPK Bina Sejahtera, majoring Sales Administration in 2018. I have developed my (5) ____ and qualities through studies and internships. Through internships, I have experiences for real work at a company. I have the ability to work (6) ____ and a pleasant personality. I am (7) ____ in communication skills and computer literate. I am good at both written and spoken English. I am (8) ____, creative, and energetic.
I enclose my curriculum vitae, a photocopy of the latest certificate, identity card, and references. I would welcome (9) ____ for an interview. I look forward to hearing from you. Thank you.
Yours (10) ____.


Septiarini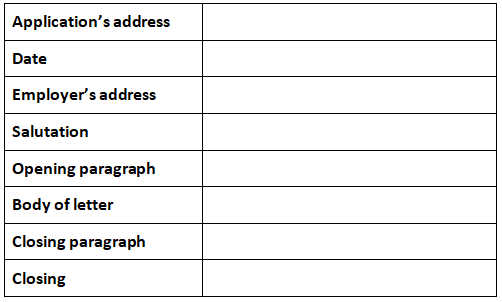 Table 2.2 The identification of an application letter structure