Complete the paragraph with 'is' or 'are'.

Today, I am in my grandparent's farmyard. There (1) ____ many animals. There (2) ____ some chickens and cows.
There (3) ____ a large green field. There (4) ____ some chickens in the west. Usually, there (5) ____ many eggs in the barn, but today there (6) ____ only a few eggs. Grandpa said, he has sold half of the eggs.
In the east, there (7) ____ many cows. In the barn, there (8) ____ a lot of milk in bottles, but there (9) ____ a little meat there. Grandma said, people bought, a lot of meat yesterday.
There (10) ____ a long fence surrounding the green field. Beside the field, there (11) ____ a big barn. There (12) ____ a lot of hay near the barn. The hay is the cow's food.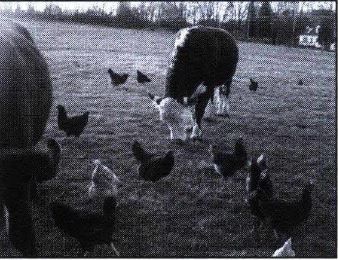 Picture 6.8 A cow and chickens in the farmyard
Source: http:l/minimacfa rm.com/wp-contentlup/oads/20 14102/free-range-chicken 1.jpg downloaded on February 7, 2017 at 09:02

(1) ____