Complete the following text with suitable words from the box. Change the form of the words if necessary. Read the text aloud, in turns.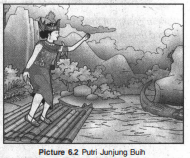 (source: Dilla Eka L.)

A long time ago, there was a kingdom in Kalimantan (1) ____ by a wise king. One day, he went to the forest and heard crying babies from bamboo trees. The guard cut them and (2) ____ seven babies, six boys and a girl, inside them. Then, the king (3) ____ them as his children. The. baby boys grew as smart. and handsome princes and the baby girl grew as a beautiful princess named Putri Kayangan.
One day, Putri Kayangan (4) ____ from bad skin disease. No one could cure her. People were (5) ____ that they would be infected with that disease. Therefore, the king requested the princess to leave the palace to save the people from the disease. The king and all people were sad when the princess (6) ____ a raft to leave the palace.
The river (7) ____ brought the raft to Labuhan Gending where a white crocodile lived. Putri Kayangan saw the crocodile approaching her. She prayed to God. The crocodile splashed her skin with river water and (8) ____, she cured from her skin disease. Then, it swam into the river.
After that, a (9) ____ saw the princess and asked who she was. She could not tell that she was a princes. He adopted her and named her Putri Junjung Buih. One day, a prince from Mataram Palace met her and fell in love with her. They married and had children.
Since then, Putri Junjung Buih was a famous person which became the (10) ____ in Kalimantan. She was the mother of King Ketapang.
(Translated from: http://agussiswoyo.com/cerita-rakyat/kisa-legenda-asal-usul-putri-kayangan-menjadi-putri-junjung-buih-dari-kerajaanbanjar-kalimantan-relatan/ (September 25, 2019))