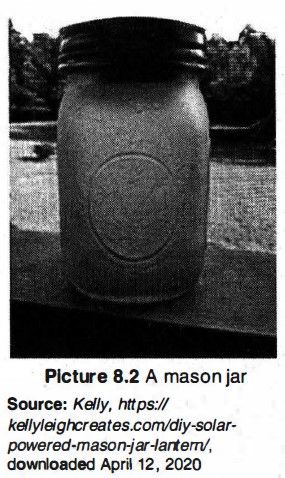 Are you planning a camping trip with your family or friends? Do you like to stay up late in the tent? And, you don't want to bother with flashlight batteries that die, do you? Then, this DIY solarpowered mason jar lantern is for you! This project is so easy and cheap and will keep your campsite, or any area, illuminated with style.
All you need to make this solar powered lantern is a mason jar and a solar powered light from the dollar store. Frosted spray paint is optional You'll also need scissors, a drill and hot glue. Now, let's start making it. First; carefully take apart the solar powered light; making sure to keep the whole solar powered contraption in place. Cut the plastic, part away so you are left with only the solar powered panel.
After that; cut a square hole in the lid of the mason jar to fit the solar powered panel. Use a drill to start several holes, so you can get the scissors through the metal. Secure the panel with hot glue.
You can put the glue on the outside or the underside. If you put it on the underside, it looks less messy than the outside does. Hot glue the underside portion to the base, so it doesn't hang down into your mason jar. So now, you will have the solar panel on the bottom. Don't forget to hot glue each end of the battery and stick it to the solar panel.
Next; screw the lid back onto the mason jar to complete your lantern. The solar powered mason jar lantern is done! You can either leave the lantern as it is or you can frost the outside of the mason jar. Frosting the outside diffuses the light a bit; and I think it looks better frosted.
This lantern lasts all night if you let it charge up during the day. Just put it on your picnic table and you will have a fun nightlight to take in the tent at bedtime.
(Adopted from: Kelly, https:/ /kellyleighcreates.com/diy-solar-ppwered-mason-jar-lantern/ (April 12, 2020))

Answer the following questions based on the text in Activity 3. Share your answers with the class.

What should we do after sticking the panel on the bottom of the lid?