A. Choose the correct answers.
The following text is for questions 1 - 10.

King Raven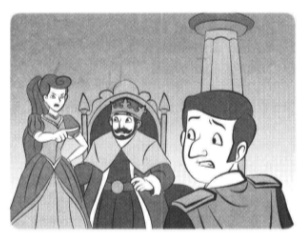 Source: Zaida, Nur. 2019. Bupena English for SMP/MTs Grade IX. Jakarta: Penerbit Erlangga.

Once upon a time, there lived a king named King Cedric, his Queen, and their daughter, Princess Tamara, in a faraway kingdom. After the Queen's death, the Princess felt lonely. Because King Cedric cared for and loved his daughter so much, he really spoilt the Princess in everyway.
The Princess grew to become a beautiful woman, but she was really selfish and rude. After her father announced her marriage plan, there was a king named King Raven, who wanted to marry her. She was so overjoyed because she thought that he would be good-looking and rich.
But after she met with King Raven, she was really disappointed. She even insulted him by saying that she would not touch a man like him because he was not handsome and his nose looked like a scarecrow's in a field.
King Cedric was furios when the Princess said that to King Raven, so he decided to marry her to the first beggar who entered the kingdom and she would be told to get out of the kingdom after that. Suddenly, a beggar came. The Princess had to marry him and they, then, left the kingdom.
One day, the beggar caught a rabbit and asked the princess to cook it. Unfortunately, she didn't have any ability to cook and the rabbit finally was burned. When the beggar saw it, he was so shocked. Then he decided to catch another rabbit again and gently taught her to cook it. The next day, he also taught her to make pots. In the middle of their wandering life, a prankish boy threw stones. Unfortunately, the Princess got hurt and couldn't walk, so the beggar carried her. He took care of her affectionately during her illness and she began to love him.
After the Princess felt better, they continued their journey and arrived at a castle. Then the Princess asked her husband about the castle's owner and he said that it belonged to King Raven. The Princess felt ashamed about what she had said to King Raven before and she believed that he was a good man and would accept her apology. Surprisingly, the beggar took off his beard and revealed that he was King Raven. The Princess said sorry to him and King Raven forgave her. Finally, they lived happily ever after in King Raven's kingdom.
10. Arrange the following sentences in the order that they happened.

1) The beggar and the Princess got married.
2) King Raven disguised himself as a beggar.
3) The Princess met King Raven for the first time and hated his nose;
4) They arrived at King Raven's kingdom.
5) They left the palace.
6) The couple lived a wandering life.
7) They lived happily ever after.
8) The beggar revealed who he was.