The following text is for questions 15 to 18.

BRAZILIAN FRIED BANANAS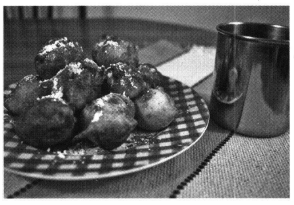 This traditional breakfast of northeast Brazil is easy to make. You just have to prepare:
3 bananas
1/2 cup white sugar
1 1/4 teaspoons ground cinnamon
3 tablespoons butter
Steps:
1. Cut each banana into 3 pieces.
2. Heat a frying pan over medium-low heat and melt the butter.
3. Then, put in and cook the banana slices until golden brown.
4. Mix the cinnamon and sugar in a bowl.
5. Take the banana out and drain them on a plate covered with paper towels.
6. You may sprinkle or coat the banana slices with cinnamon-sugar.
".... coat the banana slices ...." (Step 6)
The underlined word is closest in meaning to ....
Pertanyaan di atas menanyakan sinonim dari kata bergaris bawah pada kalimat tersebut.
"Coat" artinya adalah "melapisi" atau "melumuri" dalam bahasa Indonesia.
Berikut ini terjemahan dari opsi jawaban A sampai D:
A. memenuhi, B. mencelupkan, C. melapisi, D. menaburi
Jadi jawaban yang tepat adalah C.